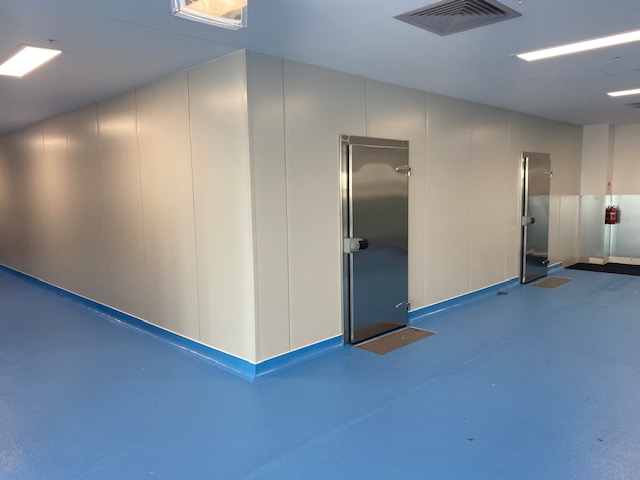 About Our Coolroom Panels
Our wide range of coolroom panels can provide a cost-effective solution if you need a temperature-controlled environment in your warehouse, commercial premises, retail business, workshop or even at home.
Some common uses of these insulated panels are as:
Partitions in offices
Complete Temperature-controlled coolrooms such as fridges and freezers
Clean rooms for manufacturing businesses
Domestic applications for sheds, carports or garages
The expanded polystyrene (EPS) panels that we manufacture are both lightweight and highly durable. They're extremely easy to install and can be used both as wall panels and ceiling panels.
Cool Room Panels
We have six different sizes of cool room panels:
Made-to-Order Coolroom Panels
For individual or custom requirements, we can easily make your sandwich panels to the specifications that you need.
You'll be impressed with the high quality of our coolroom panels as they are:
Strong and durable
Lightweight
Frameless
Freestanding
Easy to clean
We are immensely proud of our hygienic, low-maintenance freezer and fridge panels in Melbourne. Our cool room panels are mould and bacteria-resistant as well as vermin-proof.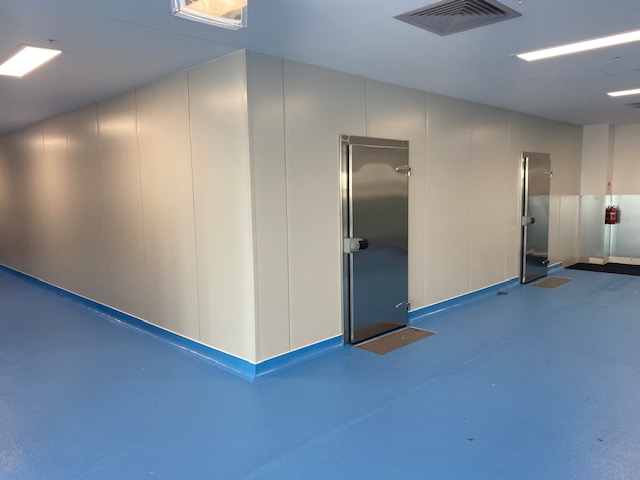 You'll also be happy with the fact that we use a continuous lamination process to thoroughly adhere Colorbond® to both sides of our sandwich panels' polystyrene core. This means that they never need painting.
Once you have erected your frameless, freestanding freezer panels, or have one of our skilled technicians do it for you, they require very little maintenance leaving you free to do what you do best.
Burton Industries are the coolroom manufacturers Melbourne has relied on for decades. To purchase your freezer panels or for a free and no-obligation quote, contact Burton Industries today. As dedicated sandwich panel suppliers, we're also happy to answer any questions that you may have about coolroom panels.
What Are Insulated Sandwich Panels?
Insulated sandwich panels consist of a core that has insulation properties and is then sandwiched between and bonded to either metal or polymer composite skins.
Our coolroom panels for sale in Melbourne have an inner core made from expanded polystyrene (EPS) and this is placed between two sheets of painted galvanised steel. This creates a coolroom panel that has exceptional thermal insulation properties but remains lightweight and easy to maintain.
What Are The Benefits Of Insulated Sandwich Panels?
There are many benefits to using insulated wall panels or fridge panels either in a commercial or domestic setting. These include:
Cost-effective
Structurally strong and durable
Easy to erect
Superior thermal insulation thanks to the thick but lightweight core material
Bacteria and mould-resistant
Vermin proof
Easy to keep clean
Uses For Insulated Sandwich Panels
Insulated sandwich panel roof and wall panels have a multitude of uses. Here are just a few:
As refrigeration wall panels in supermarkets and other grocery stores
In warehouses to provide a safe, moisture and vermin-proof storage area for goods
As refrigeration wall panels in cold storage facilities to keep perishable goods at a controlled temperature and stop spoilage
As protected environments in laboratories to keep sensitive equipment cool and in optimum working order
To provide temperature controlled environments in manufacturing premises to stop equipment from overheating
In car dealership showrooms to protect new vehicles from environmental damage
In gyms and other recreational facilities to provide a temperature-controlled environment for users
In hospitals and medical facilities to keep equipment and medicines at the correct temperature
Coolroom Panels For Sale Melbourne
We are Melbourne's leading supplier of coolroom panels. We make, sell and install insulated wall panels and refrigerator panels for a whole range of different customers, both commercial and residential.
As well as the individual panels in a range of different sizes, we also supply DIY coolroom kits. This means that we can supply individual replacement panels or provide you with a complete coolroom solution for your needs.
We can even assist with the design and installation of your coolroom if you wish. Our sandwich panel roof and wall panels can be supplied anywhere in Victoria and we even have a next-day delivery service available.
Give us a call for a quote now
Burton Industries' Coolroom Panels
At Burton Industries, we have decades of experience in manufacturing and installing coolroom, freezer and fridge panels in Melbourne. As premium sandwich panel suppliers, our panels have been widely used for refrigeration and temperature control in restaurants, trucks, butcher shops, bottle shops, supermarkets and even in private homes.
We have also supplied sandwich panels for use in marquees and pop-up events. We understand the importance of effective cold storage and ensure that our panels will meet your needs.
To protect your precious goods, you need to ensure that your insulated wall panels or refrigerator panels are working effectively and quickly replace any that are not.
For quality new or replacement freezer or coolroom panels, contact us today.
Coolroom Panels